In 1980 WNYU 89.1 FM began broadcasting a radio show called the New Afternoon Show from 4 pm till 7 pm every weekday with a different DJ each day. That radio show was the brainchild of station programmer and DJ Sal LoCurto with the help of station manager Vincent Montuori, both NYU students who pretty much invented the format of what we consider today to be college radio. Back then when LoCurto started the New Afternoon show WNYU 's signal had a very large broadcast range taking in Manhattan and the entire metro area. And because of its antenna in the Bronx the signal reached all the way up into Westchester and Connecticut, not exactly a local college radio signal. In those days the power of corporate radio including the rock format stations was all-encompassing; they wrote the rules and controlled the airwaves. Sal made a deal with the powers that be, he wouldn't step on their toes the New Afternoon Show would not play any music that could be heard on any commercial radio station in NYC, the show would only play new alternative music and nothing else. While the music on the show would be new and unconventional, Sal saw to it that the actual format of the show would be not the loosey goosey rambling format of prior college radio. On the New Afternoon Show the DJs were to play no more than two songs and then back announce the songs just played, DJ segments were to be tight, informative and to the point.
The timing of Sal's arrangement was right on the money and coincided with the birth of an independent music scene with an explosion of independent record releases both here and in the UK and Europe. This new era of promoters, record companies record stores venues and new music fans had organically sprung up in the metro area with the help of the New Afternoon Show and other cultural factors. Independent music would never be the same, this new and exciting music culture had suddenly appeared out of nowhere so indie music and independent radio lovers tip your hat to Sal LoCurto and his excellent invention the New Afternoon Show and its innovative formatting. The show still runs to this very day starting at 4 pm every weekday at 89.1 FM and at wnyu.org
While the landscape of independent music may have entirely changed from what it was back then one of the DJ's from that original and great early New Afternoon Show era is still broadcasting on the NY metro area airwaves today: DJ Evan "Funk" Davies is still delivering the goods on his radio show Wednesday nights on WFMU 91.1 at 9 pm. Many broadcasters whose careers started at the same time back then have come and gone, but Davies is still here and still kicking out the jammy donuts and with that same youthful enthusiasm of his WNYU days.
He possesses an unending insatiable love of new music, championing young up-and-coming bands week-in, week-out on his excellent show. His background music between sets is one of the greatest I have yet heard. Davies, a very talented broadcaster with impeccable timing leaves a pause of dead air after the last tune of the set and then there is the sound of a scratch of a vinyl record, the kind vinyl lovers hate to hear as it sounds like it probably involves physical harm to a vinyl platter. Then begins an explosive hip-hop loop by Lordz of Brooklyn over which Davies delivers his dry, humorous and very distinctive patter. His knowledge of music and bands and his enthusiasm for new, up-and-coming and underground music is awe inspiring and is a joy to listen to each week. Watch out for his annual New Afternoon Show throwback when he plays all the hits from his New Afternoon Show heyday and even features audio segments of himself on WNYU back announcing tunes or even announcing the gig calendar for the upcoming week back in the day.
Criss-crossing the FM band recently on a Sunday evening I came across a very interesting radio show; UKNY broadcasting on WFUV 90.7 Sundays 11 pm. An excellent hour of radio that showcases new sounds from the UK hosted by Kara Manning who has an ear to the ground for very interesting new sounds bubbling up from the underground across the pond. While WFUV, a listener-sponsored station broadcasting from Fordham University, generally deals in more mainstream if slightly left of center music, Manning's show is gutsier and has a broader palette, playing anything from jagged post punk to folk-tinged indie and on to urban electronic deep bass beats. She rounds out her great tune selections with an abundance of up-to-the-minute bio information on the artists and labels she showcases. Well worth a visit on a Sunday evening.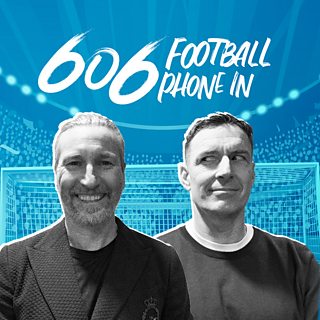 On The DX front this time out, I'm highlighting a radio show that does indeed involve distant listening but unfortunately and heaven forbid not available on an analog radio. 606 is a weekly call-in sports radio show on BBC Five Live that deals with football i.e. the game where the players play the ball with their feet. Broadcast generally on a Saturday evening in the UK at six minutes past six as most of the day's games have just ended, it originally involved call-ins by fans on their way home from the games. These days, as fans are not allowed in to the football grounds it is basically a call-in show where fans discuss the days games and the travails of their beloved teams. While Premier League clubs are generally the topic of discussion, lower league teams are also part of the discourse. What makes this show so entertaining are the two hosts, Robbie Savage and Chris Sutton. Both football legends in the UK, they both played at the highest level of professional league football i.e. in the Premier league and they both know what they are talking about and as it should be stated, do the fans that are calling in. Savage and Sutton have one of the best repartees on the radio that I have heard in a long, long time. As professional athletes they were highly competitive individuals and nothing has changed there. So this makes for a highly spirited dynamic between the pair, their banter is hilarious with ribbing and slagging going on constantly between the two. They have a weekly quiz show call the Wanderer where they alternate asking and answering each other the questions, testing their knowledge of professional football players past and present. This is just another excuse for rivalry and ribbing between the pair and adds to the greatness of the show as does the feature where Robbie Savage's mum Val calls in and the three of them predict the following week's match results. While 606 is generally on every Saturday, some weeks it is not on at all or is moved to a Sunday, and some weekends it is on both Saturday and Sunday. Note: for listeners on the East Coast of the USA, we are five hours behind the UK so it starts at 1:06 pm East Coast time A must for lovers of the Premier League and professional football in the UK in general.
Available at bbc.co.uk/fivelive
Return to Freq-amp homepage.