Frequency and Amplitude
Surveying the wrack and the rot of the NYC-area analog radioscape and beyond
9/9/2022 Dispatch: Adult contemporary alternative/National Association of Broadcasters goes "local"/what doesn't suck?
Just as medical researchers analyze sewage to find evidence of viruses, we plumb the effluvia of the airwaves for traces of life. Much of what we find is disappointing. Take "Alt" 92.3, WNYL. When we say this station is a disappointment, we don't mean because it is bad. It is a bad station, but not enough to merit any particular disdain (there's plenty of shit on the dial). Alt 92.3's blandness, its absolute inability to sound like anything other than a corporate marketing team's idea of "alternative" music is its real crime…Read more.
Fascinating reporting from the Marshall Project and the Guardian on a low-wattage prisoner-run radio station in Texas
The excellent Marshall Project (in partnership with the Guardian) has a story up on prisoner-run radio. A really worthwhile read, you can find it here.
The story contains some fascinating bits on the way prisoners relate to radio in their daily lives—occasionally, right up to the final hours of an inmate's death sentence.
"As per usual, he [a death row inmate] tuned in — but this time he got to respond with his own voice. The day before Ramirez was scheduled to go to the death house, the warden made an unprecedented decision: He let the condemned man go to church. It was a special service outside, and there was a chain link fence between Ramirez and the choir from General Population — "GP" — but it was still a first for death row. Afterward, The Tank [the prison radio station] aired the best bits for the whole prison to hear."
Full story via the Marshall Project: The Prisoner-Run Radio Station That's Reaching Men on Death Row
Black Information Network/BBC Radio Six/John Allen resurfaces/Schaap lives, by Dick Alexander
At Freq Amp we are often bemoaning the proliferation of white nationalist hate radio, right-wing republican propaganda, misinformation, disinformation and outright lies found across the AM spectrum. Lately I have come across a recent addition to the AM dial that is the polar opposite of all of that and has a positive and uplifting voice…Read More.
Former Radio Pirate Celebrates Legit LPFM Station's 15th Birthday, by Wendy M. Levy
BRATTLEBORO — In a national landscape of extreme media consolidation and focus-group-tested, lowest-common-denominator, homogenized radio, southeastern Vermont boasts something music- and free-speech fans in other regions can only dream about: two commercial-free community radio stations, within about 20 miles of one another…Read more.
Late August dispatch: another Holocaust denier pops up on WBAI/On Being and Nothingness at WNYC/Funk Flex draws thousands to Coney Island/Blind Tourist back on FMU/Mahogany with Sonika and Bailey/Inching toward one year of Freq-Amp
WBAI's execrable "Guns and Butter" continues to deliver its weekly horseshit. I tuned in recently and heard a guest claiming the environmental movement was a secret socialist plot to abolish private property. The guest made up several facts and assigned new meanings to terms like "austerity." The most recent (8/11) program featured yet another Holocaust denier…Read more.
The shoes, the shoes, the shoes! The Jews, the Jews, the Jews! WBAI's false-flag flying, Holocaust denying "Guns and Butter" (with audio)
Read it here
———————————————————————————-
25 years of playing the same ten songs at Q 104.3/ Heshy Tischler/Curtis Sliwa and the Death Wish III election
Read it here.
———————————————————————————-
Freq-Amp contributor Peter Rugh releases a new single (with video by Freq-Amp illustrator Showband Era)
The Old International is a lament to a Covid-closed dive bar and the "wild and lonesome renegades who drink and work there." Read/hear more.
———————————————————————————-
Kokaine Karma cancelled by FMU! Freeform's early days, the MC5 and the legacy of high-energy music.
———————————————————————————-
A snapshot into one of radio's many golden ages: 6/14/1966 NYT radio listing; Bob Fass with Muddy Waters and Otis Spahn/Jerome Skolnick/Studs Terkel/Billy Taylor, all in a single day
An interesting snapshot into one of radio's many golden ages…Read more.
———————————————————————————–
Bob Fass has passed, a remembrance in his own words
There isn't much we can add about Bob Fass that won't have appeared elsewhere already. Instead, we are republishing a 1977 article written by Fass for the Yipster Times in the wake of a lockout of WBAI staff by station management. This short piece is a bit rambling, but it captures Fass's speaking style pretty well, and includes some valuable tidbits of his own and his show's history…Read more.
————————————————————————————
50 years of Phil Schaap/deep, deep focus/Belockian trivia/McGasko delivers the goods/Brian Lehrer on vaccine safety/Tom Robbins on Minnesota police, health quackery on the air, etc.
For 50 years Phil Schaap hasn't just been doing a radio show, he's been putting every bit of his physical/psychic/emotional/mental energy into programming…Read more.
————————————————————————————
Country and Western classics, pirate reggae style (with audio)
Flatbush, Brooklyn-based pirate station Crossroads Family Radio (105.5 fm) has been taking the artform to new levels with their country show…Read More.
————————————————————————————
Indie and the 606 Massive, by Dick Alexander
In 1980 WNYU 89.1 FM began broadcasting a radio show called the New Afternoon Show from 4 pm till 7 pm every weekday with a different DJ each day…Read more.
————————————————————————————
"Something is happening here, but we still don't get it…" NYT/Wapo take on conservative talk radio (2/11)
Read our take on (some of) what's wrong with these major news outlets' recent coverage of right-wing talk radio here.
————————————————————————————
January 12 dispatch: How NYC AM radio responded to the pro-Trump mob's storming of the Capitol building (with audio)
If you follow this stuff, an obvious pattern begins to emerge: the right-wing radio hosts will largely defend Donald Trump at all costs. We will present the more notable moments, and the notable exceptions…Read More.
————————————————————————————
Early January dispatch: More thoughts on radio and survival in a burning world
No matter how much we would like to wish them away, conspiranoid Q-Anon crackpotism, antivaxism, election-result denialism, Covid denialism, climate skepticism and other general insanity have fully burrowed their way into the American discourse…Read More.
————————————————————————————
Early December dispatch: lost gems resurfaced/Paris is still burning/brilliant forgeries/commercials as economic indicators/it's Christmas time again and again and again/and much, much more
We already know things are bad, let's get to the good stuff…Read more.
————————————————————————————
May He Rest in Peace, radiofiction by Peter Rugh
Mother always complained Father was a loudmouth. He wouldn't shut up when he was dead either…Read more.
————————————————————————————
D. Alexander's Freq Amp Hardware Show: Bluetooth transmissions and the kitchen sink
In my last dispatch, I reviewed a Bluetooth receiver. This time out it's a Bluetooth transmitter: The Miccus Home RTX 2.0 Long Range Wireless Audio Transmitter. This unit can also function as a Bluetooth receiver, here we are focusing on its transmission abilities…Read more.
————————————————————————————
Post-election dispatch. Contested election or contested reality? Reactionary AM scrambles to forge a narrative in real time/Weird Giuliani Audio/Brian Lehrer, On the Media, Reveal deliver the goods/WBGO steps it up/Friday night funk on FMU, and more…
No sooner than it was clear Donald Trump had no real path to an electoral college victory, the conservative talk radio hosts began spinning any false narrative they could find. Conspiracy theories were floated and quickly discarded for the next made-up claim. Some hosts put forward multiple contradictory claims at the same time. States that had finished counting votes needed to continue the count. Other states that were still counting ballots needed to stop immediately. It was the voting machines! Dead voters! Whoever coordinates the daily messaging failed to get out a coherent narrative. As bizarre as the entire spectacle was, it was fascinating to hear the narrative forged in real time…Read more.
————————————————————————————
Good News Dispatch. Whole lotta legends. Cousin Brucie and Tony Orlando bringing the oldies to WABC/Bacharach is back/Tom Robbins launches "Deadline New York" on WBAI/Dick Alexander: Bluetooth Beauty and the DX'ers Dream
This time around we've got mostly good news. Since September, Bruce "Cousin Brucie" Morrow has been back on the air at WABC AM, after a 45-year absence. Morrow is one of the all-time-great rock 'n roll disc jockeys, and it's a pleasure to hear him in his element on Saturday nights. The Cousin's career developed coevally with a really important phase of rock history. He likes to play mostly 50s – 60s-era classics: sparkling soul, some Doo-wop, lots of majestic Burt Bacharach/Phil Spector Wall of Sound production. At any rate, Morrow, who is in his 80s, sounds like he's having a lot of fun. He knows how to set up a song, he helped invent the format…Read more.
————————————————————————————
A short dispatch, with audio: Heshy Tischler and the Proud Boys make rally plans on the air. "We have a lot in common." (10/22)
Today's dispatch is going to be a short one. We are reluctant to give obnoxious blowhard Heshy Tischler too much attention. Those of us who put this site together are grateful for our readers, and we don't want to subject any of you to endless posts about unlistenable programming. We have already covered Tischler's antics and his "Just Enough Heshy" show here and here. This new development, however, is worth reporting on, as a warning. Here's what we hope is the last post for a while on Heshy Tischler…Read More.
————————————————————————————
October 19 Dispatch: Heshy's War/Giuliani unravels "scandal of the Century"/Curtis Sliwa—Let us Now Diss Dead Rockstars/WABC's "Back the Blue"campaign/NYT on AM radio/Tectonic event/Off the Hook/Morricone Island/Majestic Pirate Soul (with audio receipts galore)
Harold "Heshy" Tischler finally got a taste of the fame and attention he's been working so hard to attain. Tischler's role as an erstwhile leader of the raucous Boro Park protests that saw the burning of face masks got the host of Just Enough Heshy international press coverage. This was a step up from the attention Heshy got shutting down Department of Health outreach sessions…Read More.
————————————————————————————
Dick Alexander 10/15 Dispatch: Sunday Radio Days
I had always regarded Sunday as being a great radio day before the march of time took two of my favorite broadcasters away. However that being said, it's still a good day. At noon on WFMU 91.1 FM The Glen Jones Radio Programme featuring X Ray Burns is still going and still titled thus after the passing of the hilarious X Ray Burns. Truth be told X Ray was the reason I listened to the show…Read More
————————————————————————————
October 6 Dispatch: Is this what we want to return to? "Oh Boy…" Hazmat suits, pop-up morgues—A Bronx scanner recording from the peak of the first wave
Read/listen here.
————————————————————————————
October 4 Dispatch: A weird week in an age of weird weeks. AM radio responds to Trump's taxes and Covid/WNYC takes on voter disenfranchisement on Long Island/Quote of the week, and more…
Read about it here.
————————————————————————————
September 26 Dispatch: Crucial NPR coverage of our national predicament/a contested election?/Brian Lehrer hits 31-year mark at WNYC/the radio essay as art form/and a special guest dispatch from Portland, OR
———————————————————————————–
September 23 Dispatch: Every day is Tuesday/Coltrane birthday broadcast/Too much Heshy/Giuliani goes QAnon/O'Reilly's back
September 15 Dispatch: Hatemonger Hal/Radio and survival in a burning world
Hatemonger Hal Turner pops up on the AM band/Radio and survival in a burning world/American anxiety, bipartisan Sinophobia and the trade war/DX update/recommended radio history…Read more
————————————————————————————
INAUGURAL BULLETIN: September 2020
CONTENTS
The FM Dial: Woke-hop, left factions, freeform, free jazz and more
Classic Rock: Nostalgia, or something like it, by Brendan Byrne
AM Radio—"We can't let the other side even breathe"
WABC, WOR: High noon in Giuliani town
Crusaders and the Lost Cause: "The Answer" and "The Mission"
Informational/Musical AM stations
Local and DX Dispatch by Dick Alexander
THE FM DIAL: Woke-hop, left factions, freeform, free jazz and more
A modest survey of some of the things found on the FM dial.
WNYC 93.9
WNYC's stellar, but underutilized, news department has been doing excellent coverage of the protests against police abuse and the violent antics of the NYPD (both topics on which WNYC has been historically weak).
WNYC-produced On the Media has been consistently great for at least the last few years. This show looks at the stories behind the headlines. On the Media has done some deep archaeology of toxic right-wing canards (Pizzagate/QAnon), and the way these things spread through the mediasphere. A recent segment tackled what alternatives to a policed society would look like, with a guest expounding actual anarchist concepts of community organization—content barely existing anywhere on the radio. (Even WBAI shamefully purged its anarchist program, Moorish Orthodox Radio Crusade years ago.)
CLASSIC ROCK: Nostalgia, or something like it, by Brendan Byrne
104.3 WAXQ
107.1 WWYZ, "The Boss"
To get a handle on the arbitrary abstraction known as "classic rock," we dispatched Brendan Byrne to see what lurks between the beer commercials and the songs that sound like beer commercials—Ed.
Entering a bagel shop in deep Queens several mornings ago I was greeted by the blare of "Fat Bottomed Girls" at levels unconducive to communicating with staff through face mask. This was almost certainly not radio: there was no DJ connective tissue between Queen & the next solid gold classic, but it brought back, with an unProustian violence, the experience of every lunch counter and mom & pop retail joint I frequented in the aughts. Highly differentiated from bars (whose jukeboxes were often overridden by pissed-off bartenders with direct access to the stereo), this wasn't music you were supposed to listen to, it was music meant to reassure you that you knew where you were.
AM RADIO—"We can't let the other side even breathe"
But today, in order to create a totalitarian Lebensraum, it is no longer necessary to resort to extraordinary invasions with the motorized vehicles, tanks and stukas of lightning warfare, since one can use the ordinary penetration of the new media, the information blitz. The abundance of surrounding dangers was formerly posed by belligerent factions armed with explosives, missiles and gas. Now it can be created in our own living rooms, thanks to appropriation of the audio-visual enclosure. Shut up at home, huddled behind his alarm systems and reinforced doors, the citizen is still never safe from a televised [or radio-broadcast] aggression that composes, condenses, and reproduces at will cataclysms, assassinations and murder; which stereophonically installs the settings of distant disaster and foreign wars in peaceful homes….There is no more need for an armed body to attack civilians, so long as the latter have been properly trained to tum on their radios or plug in their television sets
—Paul Virilio, Popular Defense and Ecological Struggles, 1979
Paul Virilio could have been describing any of the contemporary media we consume, even the platforms that didn't exist when he was writing. Virilio's analysis also happens to be a spot-on description of the shock-and-awe format of much of AM radio, the nonstop descriptions of crime-ridden cities, shooters and looters armed and at the ready—a Deathwish view of the urban centers, where cops are handcuffed by anti-chokehold legislation and the Bronx is always burning.
LOCAL AND DX DISPATCH BY DICK ALEXANDER
Lately I haven't been getting much sleep so I lie under the covers trawling the waves aided by my tiny radio, the Sony Walkman SRF 59. This is a small and inexpensive radio that is suited to DXing and radio listening in general. DXing is a radio culture term for long-distance listening, i.e. seeking out and listening to radio stations hundreds and sometimes thousands of miles away.
PIRATE TRANSMISSIONS
Many interesting pirate stations can be found on the radio. Most of these pop up in different frequencies, usually at the very low end of the FM dial. In Brooklyn, listeners can find pirate stations broadcasting in multiple languages including Russian, Yiddish, Kreyol, Spanish and English.
SHORTWAVE RADIO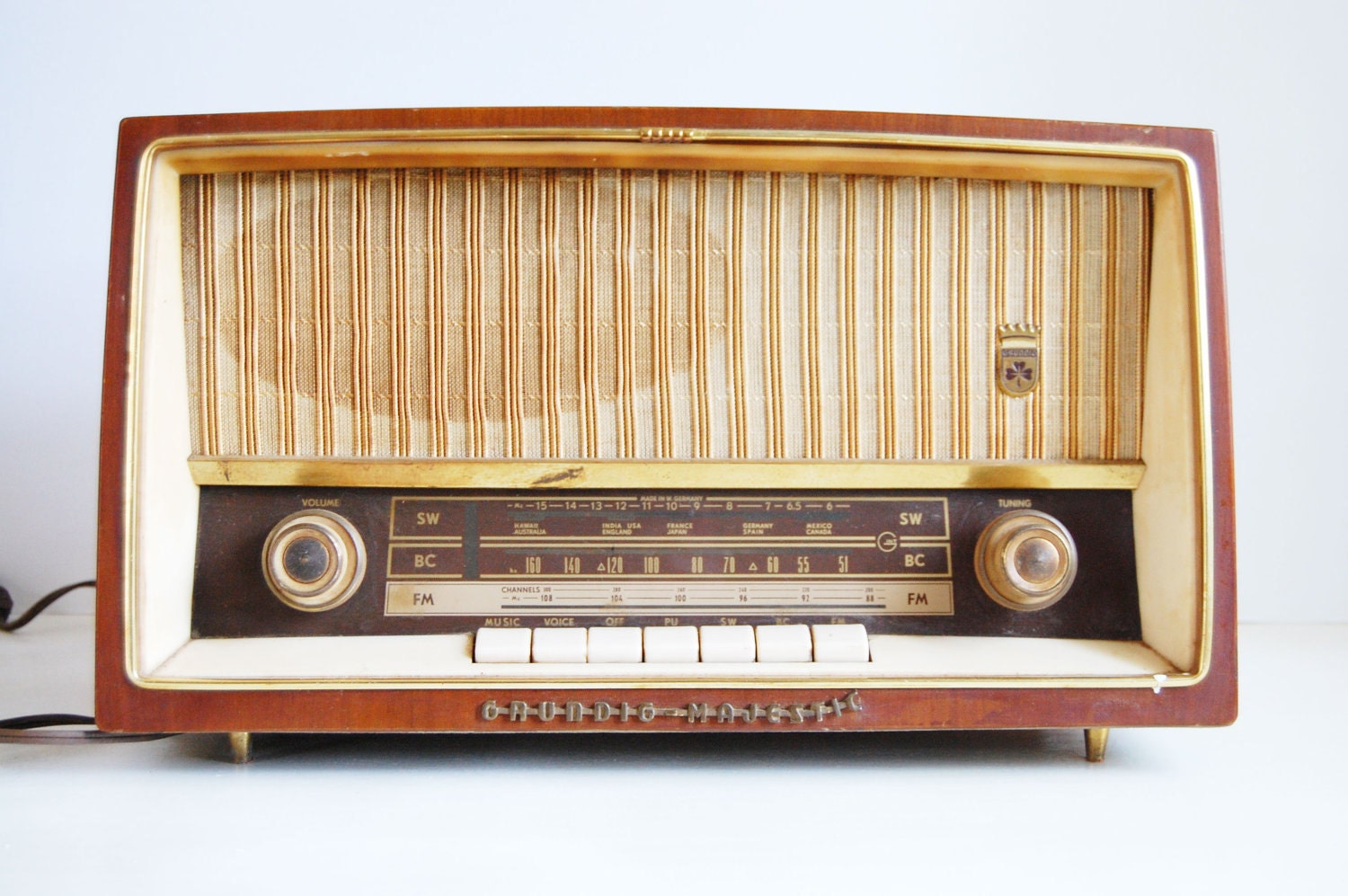 Some interesting programming can still be found on shortwave bands, though this requires wading through tons of Christian fundamentalists, open white supremacists (including nazis) and other assorted kooks. With the ascendancy of streaming radio over the last two decades…
Questions/queries/pictures of old and interesting radios to:
freq-amp@protonmail.com